Hyosung's mission is "Enhancing and enriching the quality of life for humanity with its leading technology and management capability" Hyosung has a global network of over 70 operation centers of all over the world organized through 8 business centers. Hyosung is the global leader in some product categories such as tire cord, spandex, seatbelt yarns, and airbag fabric as well as transformers, ATM units. Hyosung is an integrated textile producer with nylon, polyester and fabric in addition to spandex/elastane. Textile business is an important part of Hyosung portfolio.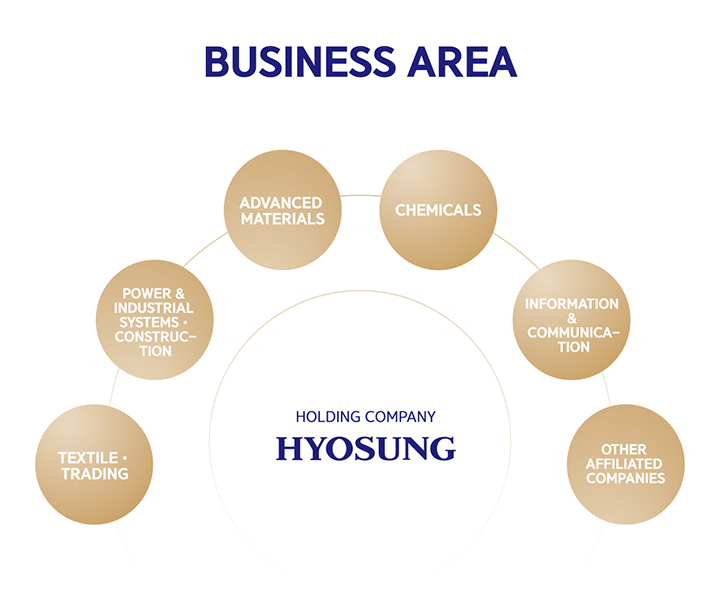 HYOSUNG
Construction
Financing & Other Affiliated Companies
Chemicals
Industrial Materials
Textile
Power & Industrial Systems
Information & Communication
Trading
PP/DH
Packaging
Film
TPA
Neochem
Optical Film
POK Grade

2022

Won King Sejong Award 2022
Announced its support for TCFD in effort to cope with climate change
Hyosung TNC Commercialized World's First Bio-based Spandex

2021

Won 22nd 'Rewarding Veterans and Patriots Culture Award'
Hyosung, Hyosung Advanced Materials received Carbon Management Honors Club and Carbon Management Sector Honors

2020

Hyosung Advanced Materials awarded the best grade by CDP for global efforts to cope with climate changes
Certified anew as exemplary entity in provision of support for culture/arts
Hyosung Heavy Industries built Korea's first liquefied hydrogen station in Samcheok
Hyosung Advanced Materials, Ulsan City signed MOU for investment in expansion of Aramid factory
Signed MOU with the Linde Group for liquid hydrogen business

2019

Hyosung Chemical held the 1st shareholders regular general meeting
Hyosung Chemical held Corporate Day in Singapore and Hong Kong
Hyosung ITX commercialized the AI Chatbot customer service center

2018

The holding company and 4 other companies were spun off
Hyosung Advanced Materials established a new tire cord production corporation in Vietnam
Hyosung R&D Business Labs acquired new technology certification for its brightness enhancement film
Held the joint IR session Corporate Day

2017

Korean Red Cross Award for Best Honorary General
Selection of best practices for the 2017 Energy and Greenhouse Gas Reduction Support Project
Propane gas dehydrogenation catalyst process technology selected as the 14th industrial technology achievement in 2017

2016

The Industrial Machinery Performance PU developed the 15MW water-turbine generator
POK Business Team acquired the automotive quality management system certification
50th anniversary of Hyosung Group
Operating profit in 2016 exceeded KRW1 trillion

2015

Acquired Best Family Friendly Management Certification in 2015
Selected as 'The Excellent supporter of Culture and Art'
Established 'Creative Economy Supporting Team'

2014

Won the 2014 Korea Technical Grand Prize for high performance carbon fiber TANSOME®
Opened 'Some Sevit', the waterside cultural space at Han River
Extended Spandex Factory in Vietnam

2013

World first POKETONE developed and commercialized.

2012

Power & Industrial Systems PG signed a contract for electrical power grid construction in Qatar
Vietnam Smile Expedition won KPRA Korea PR Awards for its Global PR
Company newsletter <HYOSUNG> won 'Chairman's Prize of Korea Clean Contents National Movement Association' in Company Newsletter of '2012 Korea Communication Awards'
Tire & Industrial Reinforcement Materials PU completed construction of Thailand JV steel cord plant with SEI
Nautilus Hyosung won the '2012 Red Dot Design Award'

2011

Built spandex plant in Brazil
Developing the country's first Carbon Fiber

2010

Received Tower of Exports Order for $4 Billion in exports(The 47th Annual Trade Day)
Built steel cord plant in Vietnam
Signed agreement to build spandex plant in Brazil
Signed contract to build electrical power grid in Qatar
Participated in 2010 Shanghai Expo

2009

Declared the Hyosung Way
Built aramid fiber plant
Built TAC film plant
Hyosung Capital merged with Star Lease Co., Ltd.
Established Hyosung Toyota
Hyosung R&DB Labs received Presidential Award for Merit of promotion of Science and Technology (Korea Industrial Technology Association)

2008

Built spandex plant in Turkey and Vietnam
Acquired Chinhung International Inc.
Built tire cord plant in Vietnam
Built plant for Nantong Hyosung Transformer Co., Ltd. In China

2007

Founded subsidiaries in US and Brazil
Acquired Dongguk Trade's plant in Zhuhai
Built spandex plants in Turkey
Built tire cord plant in Vietnam

2006

Acquired China's Nantong Transformers Co., Ltd
Successfully developed Korea's first wind turbine power generation system
Selected as the 'Most Respectable Company' for three consecutive years
Built steel cord plant in Nanjing, China
Acquired four plants from Goodyear

2005

Built nylon film plant in Jiaxing, China
Built transformer plant for Baoding Hyosung Tianwei Transformer Co., Ltd. in China
Built nylon film plant in Gumi

2004

Work for the spandex Plant in Zuhai, China completed.
Work for the transformer Plant in Baoding, China completed.
The Tire Cord Plant in Jiaxing, China completed.

2003

Hyosung Steelcord(Qingdao) Co., Ltd was established in Qingdao,China.
Boading Hyosung Tianwei Transformer Co., Ltd was established in Huabei Province, China.
The Class Hyosung, an import car sales corporation, was established.
Hyosung Spandex(Guangdong) Co., Ltd was established in Guangdong Province, China.
Hyosung Film(Jiaxing) Co., Ltd was established in Zhejiang Province, China.

2002

Hyosung Computer PU and Hyosung Data System were merged into Nautilus Hyosung Inc.
Took over the tire cord Plant of Michelin in Scotsville, U.S.A.

2001

Adopted ERP.

2000

Tookover the Bridge Solution Group, Hongjin Data System and the Aegis Venture Group.
Hyosung Spandex(Jiaxing) Co., Ltd was established in China.

1998

Hyosung T&C, Hyosung Corporation, Hyosung Living Industry and Hyosung Industries consolidated into Hyosung Corporation
Realigned organization into 5 Performance Groups and 31 Performance Units

1997

Established Hyosung EBARA Engineering Co., Ltd.
Established Hyosung Finance Co., Ltd.

1996

Established Hyosung VINA in Vietnam
Reached \1 trillion in sales
Established the nylon film plant in Daejeon

1995

Completed the Daejeon Tile Carpet Plant
Completed Gumi Plant II (fabric)
Inaugurated 21st Century Committee, Second Wave Business Launch Committee

1994

Established Hyosung Information & Communications Co., Ltd.
Completed the Jochiwon Plant

1993

Head office building moved to Kongduk-dong, Mapo-gu, Seoul

1992

Started producing spandex at Anyang Plant
Completed Gumi Plant I (yarn)
Completed Changwon Plant V (gear reducers)

1990

Completed the Yongyeon PP & Propylene plant
$500 million in exports

1989

Established Korea Engineering Plastics Co., Ltd.
Established Hyosung EBARA Co., Ltd.
Completed Changwon Plant IV (electric panel products)

1988

Established Resin Research Division

1987

Established Korea Engineering Plastics Co., Ltd.
Acquired Wonmi Textile Industries Co., Ltd.
Built 3rd plant in Changwon (rotary machines)

1986

Established Hyosung Hitachi Data Systems(currently Nautilus Hyosung)
Founded training institutes

1985

Established Hyosung NAS Co., Ltd.(now Hyosung Information System Co., Ltd.)
Built Anyang General Training Institute

1984

Merged Toplon Co., Ltd.
Merged Hyosung Construction Co., Ltd.

1983

Established Electronic R&D Center

1980

Established Hyosung BASF Co., Ltd.
Completed the Gumi Computer Plant

1975

Acquired Hanyoung Industries Co., Ltd.

1973

Established Toplon Co., Ltd.
Established Tongyang Polyester Co., Ltd.
Established Tongyang Dyeing Co., Ltd.

1971

Established Research Institute

1970

Acquired Hanil Nylon Co., Ltd.

1968

Completed the Ulsan Plant

1967

Completed the tire cord plant in Ulsan

1966

Established Tongyang Nylon Co., Ltd.